Answering A Facebook Post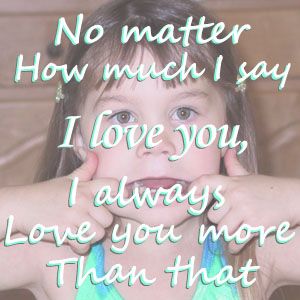 This post is more behavioral related than homeschool related. Which really, behavior and homeschool go together. If your child is having a hard time behaving it is hard to teach them and have a pleasant home. I decided to write this post after responding to a mom's question on a homeschool Facebook page. In doing so, realized I have a lot to say about this and maybe others can learn from our experience.
Her post was about her son and how he always seems to need more from her, especially time, and it doesn't matter what she does, it is never enough! He loves his brothers but doesn't understand that everyone needs time, too and expresses feeling neglected. This mom was putting an incredible amount of effort in. She understands his love language and was trying to fulfill it in the way he needed and it still wasn't enough for him.
Boy can I relate!
My third daughter is so much like this! I read the Gary Chapman The Five Love Languages of Children 1 edition
to try and help the situation improve. Her love language is gifts and time. I didn't want to have to buy her love and bribe her to be good, all the time,  and there was never enough time! I know there is more to this love language, but this is how it felt to me at the time.

Rewards
We had reward systems and a "prize basket" filled with little things the girls liked, including Pez candy and sticky hands! (Sticky-hands the toys, not sticky hands from eating candy.) Sometimes the basket had cute pencils, sidewalk chalk, hair bands and hair clips. The prize basket was helpful with all my kids! They got to pick something when they finished reading a book, good spelling tests, finishing work that was especially difficult and sometimes I would just want to reward them for being good and trying hard.
This was not a long term situation. Soon, she would be making her sisters cry. She knows how to push everyone's buttons. I often cried. This wasn't the family I wanted to create. I want harmony and love amongst my children and their parents. I want my children to like and love one another and hopefully someday, want to come back and be together for special occasions.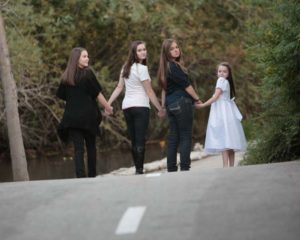 "I'm trying to catch her being good!"
We tried to find the good and focus on the positive. I remember being so frustrated and telling my husband how hard it is to find the good! She's so naughty most of the time! These were very hard and trying years! I had gotten some wonderful inspiration that helped me so much with another daughter and I kept waiting and hoping that the inspiration would come for this daughter. I thought it never had, until I wrote my post to this mom on Facebook!
Trauma In Our Family
I have blamed myself and my husband for much of what she has had to go through and the difficulties in growing up. Her sister was close to dying when she was only 2 (almost 3, her sister was 5) and we had to leave her at a neighbors, screaming. She told our friend, the best she could at 2 years old, that she was worried about mommy, daddy, Breanna and hospital. Break my heart! I have been so worried about the trauma she had to go through with this situation.
However, in more recent years I have come to believe that it is because of that experience that the two of them are so close. It also helped me to see her loving, caring side and to keep in mind that she worries, a lot.
Then, when she was 4 and 6 and a couple of other ages I really struggled with my health and almost died several times! That's a lot for a kid to have to go through. My husband, being worried about me and having so much on his plate, wasn't as kind or patient during this time period. That's where blaming him comes in. I felt he should have been kinder and more patient when I was too sick to take the lead. (He grew up in a very abusive home. He wasn't abusive, but he needed my lead to be more patient and kind. I think he has outpaced me, now and is absolutely amazing in emotionally volatile situations.)
Bullies
Then, she started to be bullied by some girls from church at the age of 7 and that went on through high school. At times, it seemed to stop or at least was less than at other times. I don't know if we could have done anything differently. In our neighborhood there are a lot of girls in her age group and most of them were bullied by 2 instigators. (But that is a post for another day.)
Shaped, but didn't make
It wasn't until recently that I realized that all of these things helped to shape her but they didn't make her who she is; not at her core. She is really a loving, caring, compassionate, funny, wickedly smart and talented! She has a strength that is mighty and great! I can see how all of those years prepared her for where she is now and what she has been able to endure in the situations she has been put in recently.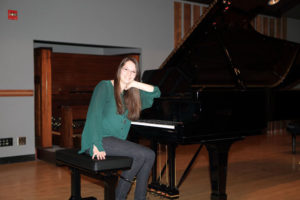 Middle Child Syndrome or Something Else?
When she was about 9 years old our church had a guest speaker come and talk about parenting. This speaker was a child psychologist. It was the perfect opportunity to ask a professional what we could do to help with the middle child syndrome. I was sure that was what was going on. My husband was a middle child but had no ideas about what might make it better. I would say, "You were a middle child. What do you think is going on? What do you think she needs, as a middle child? He always said, everyone was treated badly; he was always in survival mode as were his siblings. The dynamic was so different than our family dynamic. Thank heavens, because I wouldn't put up with any of that!
So, I asked the speaker my middle child question and he asked to talk to me after the class. He asked me what I thought she needed. I had been thinking about this for quite a while. Giving her my time and attention was never enough and wearing me out with no good results. I had been thinking that it wasn't my time she needed, but her dad's time. So, I told the counselor that I thought she needed more dad time. He then asked if my daughter was around 9 years old. To which I shockingly said, "Yes!" He then told me that girls between the ages of 6-12 really need their dads. These are the years that girls form their opinions about men and how they should treat women, as well as how they believe they should be treated by a man, someday.
*Dad's please make extra effort to show your daughter love and respect during those years! Tell them they are beautiful, tell them they are a princess and treat them that way! They will be more likely to look for gentlemen instead of bullies or little boys!
Needing Dad's Time
The counselor told him, it didn't have to be large amounts of time, but he would see a difference by just making her feel like she was important. So, he first tried it with family scripture time. He asked her if she would sit by him during scriptures and made sure she knew it was important to him to sit by her. Her face beamed! She went to bed so happy and was nice and cooperative all the next day. Eventually, they started singing at the piano together.
Finding Interests Together
My husband was a music major in college. When she was 12 years old people started asking if she has had formal training with her voice. Their love of music has been a wonderful way to spend quality time together. When she started taking piano lessons from a BYU professor and needed a parent there; his schedule allowed him to be able to drive her the hour (back and forth) to BYU and stay with her throughout the hour (sometimes longer) lessons. He learned a lot, too, in going to those lessons and he understands all those music terms and things and they communicate on a different level.
When our youngest was 4 years old, she came to me sobbing and told me, "I have nothing in common, with dad." Saddest thing ever! She was worried that because she didn't play the piano, she was a gymnast, and so they had nothing in common. It is a challenge trying to work with so many different personalities. Every child is different and needs something different.
Now, #3 is in college and she still wants to talk mostly to dad. She calls him more than she calls me. Very different because her older sisters always called me more than him. This doesn't hurt my feelings. Mostly, because she doesn't ignore me and I understand she needs something from her dad that I can't give her.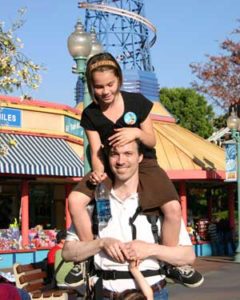 Not Easy, But Worth It!
It wasn't easy and took a while before things really calmed down. One of the problems is that her naughty behavior didn't make people feel like being around her. She wanted time and attention and the more time and attention she wanted the less anyone wanted to be around her! The older sisters caught on and when dad was really busy they would notice that little sister became less nice and much more difficult. The older girls would go to their dad or ask me to ask him to make more time for their younger sister because she was so much nicer when he did.
Different Stages, Different Needs
We have always understood that kids go back and forth between parents as they go through different stages and experiences. I think I saw an Oprah on this when my kids where very young. It rang true to me.
It was difficult to get my oldest to eat dinner if dad wasn't home. She wanted to wait for him and eat with him. I had to call him (I knew he had to work really late.) and have him tell her to eat without him.
My second, didn't want much daddy time until she was 5 almost 6 years old. It was like a switch had been flipped, when suddenly she just wanted dad time! He could never calm her down (when she was a baby) and she had always wanted me for everything! I used to refer to her as my appendage because she was always close to me, wanted to go everywhere with me and just needed me. (It was very exhausting at times and I felt like I never got a break!) Then, suddenly, dad was the only one who could calm her and give her what she needed. I'd be lying if I said I wasn't a little hurt and lost when this happened. All of a sudden, I was no longer shadowed constantly by her.
Over the years we have seen  each of our girls go to one parent over the other for different emotional needs that need to be met. It isn't a conscious thing that they do. I am always ready and willing when it is my turn and happy when they turn to their dad. I would have loved to have had a relationship with my dad like they all have with their dad!
In writing this I realized we did have inspiration with how to handle the needs of our daughter and people were put in our path to help us out. We struggled with what we needed to do and how to help her because there we things she and we needed to learn and grow from. She has grown to be very strong in her convictions, beliefs and in herself. She has needed this strength for the situations she has had to handle in college.
So, To Summarize:
* Time from the right person is enough. They may need time from each parent at    different stages.
* Kids don't want to be difficult, they want to be loved and liked. They struggle with how to express their needs and it often comes out as being naughty. They lack the skills to express their needs in constructive ways. A parent's role is to guide and direct and to help them learn those skills.
* Teach them how to handle strong emotions by being calm. If you match strong emotion for strong emotion, you will defeat what you are trying to teach.
* Model the behavior you want to see.
* Dads model the way your daughter should be treated by men. Compliment her, tell her she is beautiful and important and no one should ever treat her otherwise. She is important. She is smart. She should never put up with boys who demean, control or pressure her. She should always be treated with respect.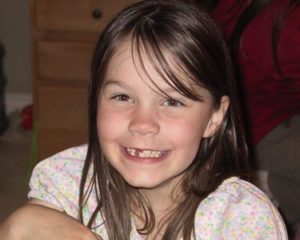 Save
Save
Save
Save
Save
Save
Save
Save