Did You Know, Ladybugs Help With Aphids?!
Our poor tree! It was dripping all kinds of liquid and it's leaves were curling. The tree looked like it was raining! Turns out we have aphids!!! When we visited our local nursery to ask for help in what to do about these aphids they told us that this year the aphids are really bad every where.
What Are Aphids?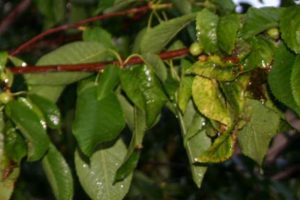 Aphids are soft bodied insects. The insects are so small they are hard to see. They are less than 1/4″ long as adults. Aphids can be white, black, pink, brown, gray, light green,or yellow. "Because each adult aphid can produce up to 80 offspring in a matter of a week, aphid populations can increase with great speed."
These insects can cause damage to plants and trees, when they are in large numbers. Where there are a lot of aphids, the tree can be covered with a "honeydew" substance that drips. This substance is created by the insects waste and is a sign that they are feeding on the tree. This liquid substance is sticky and can cause mold to grow on the leaves and make them turn black
How Do You Spot Aphids In Your Trees Or Plants?
Look for leaves that curl.
Are the leaves turning yellow?
Are there stunted, funny shaped leaves?
Look under the leaves for evidence of aphids
Ants are often found around trees and bushes where there are aphids. The ants like to gather the sticky substance.
Wet leaves
How To Get Rid Of Aphids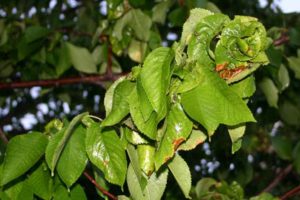 If you have curling leaves it is hard to get anything to fight them, because the curling leaves protect them from chemicals, water and predators. At the nursery, we were told that when the weather heats up (Which it isn't doing very quickly, here. This weekend we dropped back down to the high 70s low 80s.), the population of aphids decreases naturally.
This website has some great advice in how to get rid of and prevent aphids: https://www.almanac.com/pest/aphids
Spray with cold water to get them off of the leaves
If there are a lot of aphids, dusting the leaves with flour can constipate the insects.
Following the instructions for insecticidal soaps, Neem oil or horticultural oils.
Spray the leaves with water and dish soap (We had friends recommend this. We did it to some of our bushes and other plants.)
Insecticides
Lady bugs (This is the method we chose to try, besides spraying the tree with water.)
Why We Chose Ladybugs To Fight Our Aphid Infestation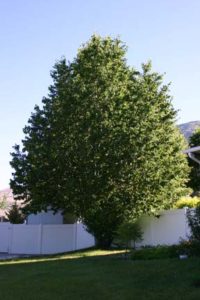 The tree is really, really tall! There is no way we can completely spray all the leaves and get all of the aphids out! With the leaves curling, many of the insects are protected from the water or any other chemicals.
We figured the ladybugs would be able to crawl all around the leaves and get to the top of the tree. At the nursery, they told us that aphids are ladybugs favorite meal! The ladybugs will stay and eat the aphids and then move on. Of course, some will fly away, but many will stay because you have provided a good source of food.
The Release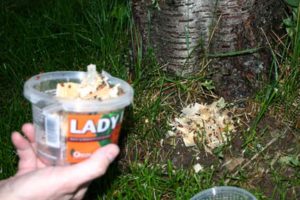 We put ladybugs out 3 times. The first time we did the full container from the nursery. We followed the instructions of keeping them in the refrigerator until we were ready to release them at dusk. Before letting the ladybugs out we wet down the grass and sprayed the tree with water. Then, we released some in to the wet grass and misted them a bit. (Wet wings don't fly.) My husband put some up on the branch and lodged the container on its side so they could crawl out higher up.
Another thing we were told at the nursery is that if we spray the ladybugs with sprite it makes their wings sticky and they will stay around longer. (We didn't try that and they seem to be staying around to enjoy the massive amounts of aphids.)
It was fun to watch them make their way up the tree trunk! We enjoyed watching them.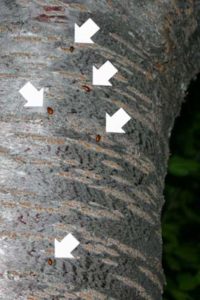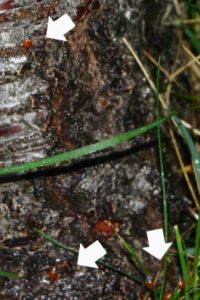 Several days later, we released 1/2 of the second container. Following the same pattern as the first time except for leaving the container in the tree. After a few more days, we released the rest of the lady bugs.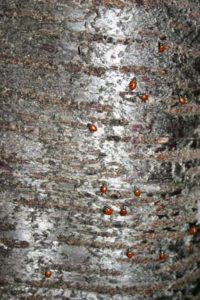 You can find out how to handle ladybugs here at this site.
Ladybug Counting
For the first few days, we would go out and count how many ladybugs we could see. It was so nice to see them. We even saw some young ladybugs, which don't really look like ladybugs, when they are young. Unfortunately, I know the birds thought the ladybugs were for them. The food chain can be brutal and make things difficult.
Every time we put ladybugs out, the birds would fly around like crazy making all kinds of noise!
The Results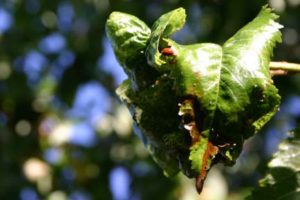 The tree quit dripping! Yea!!! It was such a mess and my neighbor parks his truck near that tree and wasn't happy with that mess all over his truck! Also, the leaves started to look healthier. There are still aphids, but it is getting better. I can still see some wet leaves as I look up into the tree. We may do another release at the end of this week or beginning of next week.
I am hopeful. I was able to count several ladybugs this morning! They are sticking around.