Patriotic Event Gets Bigger
So, for the past 3 years our community has had this great patriotic 4th of July event. This year, it got even bigger! A LOT bigger; a special flag has been made that is 30×60 feet! (1/4 and acre!) The purpose of this event is to honor veterans, first responders, patriots and to inspire patriotism in the community.
Read the full story about how and why the flag is flown here. (Donations are also welcome at this link.)
It Started in 2015
The flag is flown across a 600 foot canyon wall. 2015 was the first year (2015) they flew a flag here but our family hadn't heard anything about it. However, over the 4th of July weekend as we were coming home, one night, we could see a spotlight shining on something and the shadow blowing on the canyon wall. As we got closer, we saw this giant American flag hung from 2 canyon walls. It was one of the coolest things I have ever seen.
Some nights we could see the shadow better than the actual flag.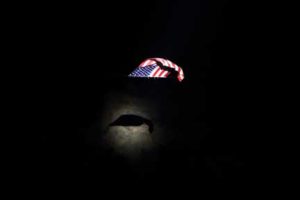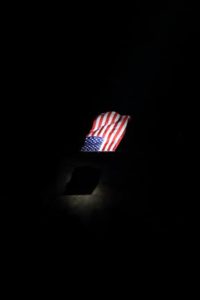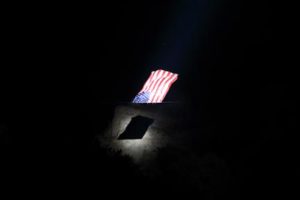 New Flag 30'X60′
The new flag is 6 times bigger than the flag flown during the first 2 years! This is the largest United States of America flag ever flown! It took 50 boy scouts to haul it up the trail; it weighs 400 lbs!!! Each star on the flag is 5′ tall.
http://www.heraldextra.com/news/local/north/pleasant-grove/world-s-biggest-u-s-flag-ever-flown-coming-to/article_b80ec917-cf8e-5be6-8499-4637f5d3d3a5.html
To kick off the event, there was a ceremony and many in the community participated in carrying a very large flag to the site where the 30'x60′ flag will hang. They did not carry the flag that will be hung because you couldn't get it down the streets without folding it and it is so heavy! This "opening ceremony" was done on Sunday, July 2, leading up to the unfurling of the flag on July 4th.
Pictures from Follow The Flag, July 2.




Pictures from a hike our family took to see the flag. It was a very windy day!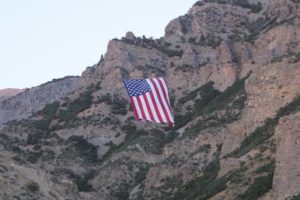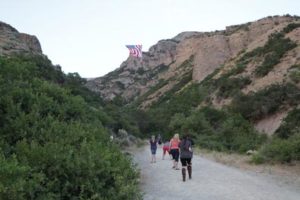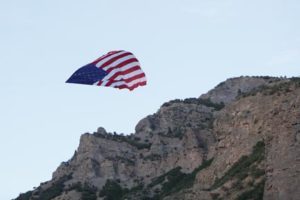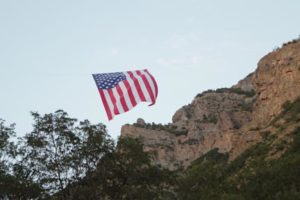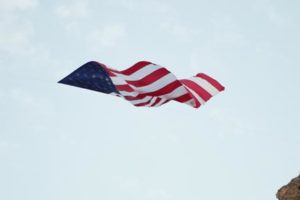 Patriotic feelings are inspired!
Many times, as I have driven around town and caught glimpses of this flag in the canyon, I have thought of the phrase from the Star Spangled Banner : ". . . our flag was still there".
I think that phrase comes to mind more prominently because our city is entering into another very heated political cycle. The flag and this event is one of the things that brings us all together regardless of how we think our community should be run. No matter what we believe in the same basic principles even if we don't always agree on how to get there.
Francis Scott Key
With our homeschool lessons we have studied Francis Scott Key the writer of the Star Spangled Banner why he wrote this song and what was happening when he wrote it. It is truly inspiring both the song and the feelings it invokes when we see that flag. A symbol of so many people who have come together to make our country great! (Patriots, fallen soldiers, veterans, first responders and everyday Americans who strive to do their best and make this country a wonderful place!)
A little sad that it came down this morning
My daughter and I went on our morning walk/hike up to the flag one last time this morning. Wouldn't you know it, I forgot my phone or any kind of camera!
We are going to miss seeing it blowing in the breeze at the end of the road!