Shannon's Grotto, my blog, is almost a year old! Over that time I have learned so much about blogging, programming (Yikes!), running a blog page, photo size, vertical pins and so much more! It has been crazy! I had no idea how much there was to learn until I got into it.
I have also learned what I like and don't like about my own blog.
Never having been super happy with my logo, I have been wanting a change.

A Grotto is a cave usually around water. Finding a good cave or representation of a cave or grotto was next to impossible. My old logo was created from an archway on a hike our family went on.
Thoughts on my grotto centered around the concept of my she-cave. . . my personal space. . . a get away.
My oldest daughter is a very talented artist, so I went to her with an idea of what I wanted. She added her own sparks of genius and creativity and this is my new logo!

Shannon's Grotto appears to possibly be flooded with water which is a good representation of how I often feel like I am in over my head. Could someone get a shop vac so I can keep my head above water?! (Okay, so it's really not that bad. I tread water well!) I hope you are laughing because I'm exaggerating, a little bit.
The gold ring, around the logo, is the edge of a telescope looking to my Shannon's Grotto. Symbolism of the peek I give my audience into my world.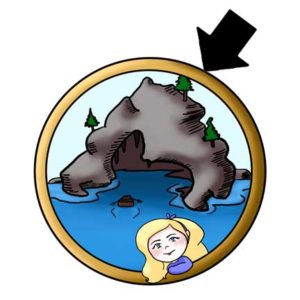 The row boat is my invitation to you to join me on this journey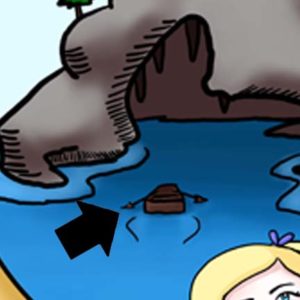 She drew a cute cartoon representation of me.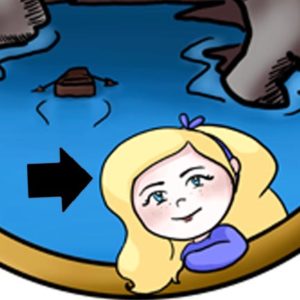 "Hello! Welcome to Shannon's Grotto!"
She also drew this one of me. Isn't she cute! My daughter is so kind!!! (My cartoon me is skinny!) Last night, we were talking about how my face (my lips and eyes) would swell often with hives, before going gluten free. My daughter told me she doesn't remember me with swollen lips or eyes and really never noticed. Then she told me that kids see the beauty of their mom and not all the other things we worry about. She told me she has only ever seen me as beautiful. She has always been awesome! I am so proud of her, her talents and the wonderful kind, beautiful woman she has become!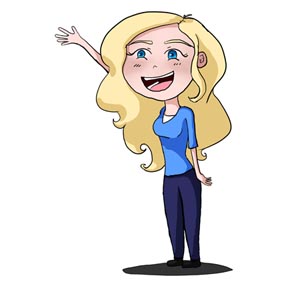 You can check out more of my daughter's work at Kayleeray.com. Oh, by the way, she is a really good writer and we are looking forward to her finishing her first novel!
I'm sure there will be more changes and improvements as I learn more and figure out what I am doing! Thanks for joining me on this journey!
# Shannon's #shannonsgrotto