Sometimes you just don't want to deal with the bone-in ham and trying to slice around the bone (even if it is pre-sliced). So, a boneless ham is a nice choice.
My mom used to make her ham this way and once I was diagnosed with celiac and had to worry about ham glaze, I started making my ham this way, too. Usually I do it in the oven but I was worried about the time we wanted to eat and what needed to be done and what time we were going to be at church. So, the crockpot was a great option to solve a lot of these issues. The package said 20 minutes per pound. My ham was about 7 pounds so that would be 140 minutes or 2 hours and 20 minutes. The trick was to figure out how that would translate to the crockpot. I did 2 1/2 hours on low and then checked with a meat thermometer. It wasn't hot enough! A warmed up ham should reach 140 F degrees. I then cooked it for another hour on high and it was perfect! It probably would have done well cooking on low for 4 hours.
Ingredients and materials:
Boneless ham
1 Can of pineapple rings, including the juice
1/2- 1 cup brown sugar (optional)
Toothpicks
Meat thermometer
crockpot
Directions:
Place ham into crockpot. (Option with brown sugar: drain juice into a small container and add brown sugar. Stir to dissolve and then pour over ham in crockpot.) Drain juice of pineapple over the ham. I just added the juice and no water. Place pineapple rings around ham and hold in place by toothpicks. You can do it like I did and cook for a few hours on low and then check with a meat thermometer and then cook an hour or so longer on high. Or go for the 4 hour cook on low option and check it with the meat thermometer. I believe it would have been warmed through had we done high for 2 hours. Remember all crockpots cook a little differently.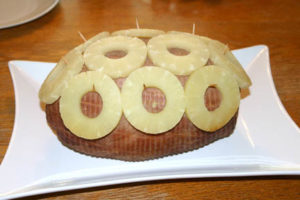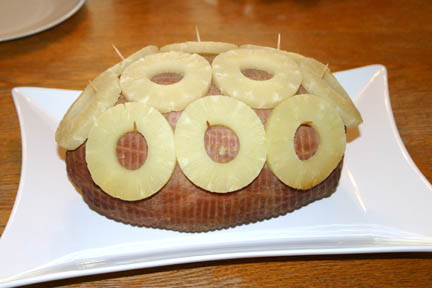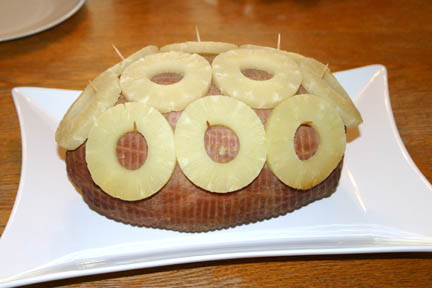 Pineapple Ham For A Special Day- crockpot
Sweet flavored ham for a special occasion.
Ingredients
boneless ham

1

can pineapple rings

with juice

1/2- 1

Cup

brown sugar

optional

toothpicks

meat thermometer
Instructions
Place ham into crockpot

**Option: drain pineapple juice into bowl add brown sugar and mix. Pour over ham.

Drain pineapple juice over ham, in crockpot

Place pineapple rings around ham, hold in place with toothpicks

Set crockpot on low for 4 hours or high for 2 hours

Check with meat thermometer. If temperature is quite a bit lower than 140 degrees then cook for longer. If it is 140 F degrees or more remove and slice.
#crockpot #ham #pineapple #easter #Christmas #familydinner