Why have a 72 Hour Kit?
We believe in being prepared. The worst time to not be prepared is when you need it most. While it is impossible to predict every possibility, there are some precautions that can be taken. A 72 hour kit is a great precaution to have. We have had 72 hour kits for our family for many, many years, but as my girls went off to college, I began to worry about them not having one where they live.
So, rather than drag it back and forth, (Spring Break, Fall Break, Winter Break, Summer, etc.) I felt they should keep one here and have a second one where they are going to school. I would feel awful if something happened and she was without it, because it was here.
My college daughter is living in an area close to where a lot of earthquakes have been happening. This makes me a little more nervous. Last winter and spring were pretty harrowing as it was. They had an extraordinary amount of snow this past winter! Then there was too much run-off, too fast during the spring. There was flooding and worries about the sewer system being over full because of the run off. As a result, there were times when they weren't supposed to shower and asked to only flush their toilets as needed. The showers were eased up on, after a long weekend but reduced showers were strongly requested.
Why 72 hours?
It takes about 72 hours for emergency service workers and rescuers to get organized and out to those who need help when there is a massive emergency. In an emergency you can expect to be on your own for about 72 hours.
A 72 hour kit should contain food, clean clothes and other items to help you get through 3 days on your own. We swap out the food every 6 months to a year. The LDS church has General Conference every 6 months and marks a good time to go through them and to update and swap out food. However, the Daylight Savings and standard time changes could be another time reminder to do this.
My Daughter's 72 Hour Kit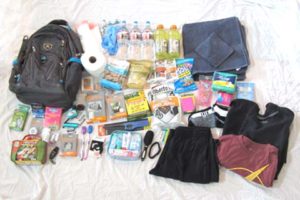 I certainly need to find more food to put in my daughter's kit. There's barely enough to get her through 3 days, but she could, even if she is really hungry! Part of the reason it is light on food is because she is my pickiest eater. However, she's got beef jerky (high on protein) and her favorite dried fruit! I can add more to it as I find more she will eat.
At the bottom, I list some other ideas to put in your 72 hour kit.
I also put a list, in the front pocket, of everything that is in her bag.
Putting the 72 Hour Kit Together
3. Paracord bracelet- (this can be disassembled and used as a rope)  
4. Garbage bags (I put 3)
5. Disposable gloves (I put in 3 pair)                                                    
6. Bottles of water (I put 3)
7. Gatorade- (I only had room for 2 bottles)                                      
8. Toilet paper
9. Toenail and fingernail clippers and tweezers                                       
13. Survival playing cards – can be used to play cards but they also have useful tips for survival.                      
14. Scissors- I love that they fold up compactly and won't poke into anything.                                             
23. A kit that includes travel size shampoo, conditioner, lotion, deodorant, etc.               
25. Toothbrush with cover to protect bristles                       
31. Favorite feminine products (pads, tampons, etc)
33. Crayons for an emergency candle (Be careful they don't tip over and are on an inflammable surface. It will give you approximately 20-30 minutes of "candle" light. Crayola burn better than some other brands. It's the paper around the crayons that burns but the wax keeps them from burning too quickly.) https://www.buzzfeed.com/donnad/easy-post-apocalypse-life-hacks-any-survivor-can-do
Food
36. Dried pineapple
37. Orchard Valley nut and fruit packages. (I found several mixtures of 2 oz packages at Walmart.)
38. Beef Jerky (Make sure it is gluten free.)    
39. Jolly Ranchers- Any kind of hard candy would be great as long as it is gluten free.     
Extra Clothing
43. T-shirt
44. Towel
45. Washcloth
46. Socks- 3 pair
47. Carabiners- I put these on the backpack straps along with the parachord bracelet.  
48. Kleenex- At the last minute I remembered to grab a small Kleenex pack to put in!          
Other things to consider:
Can gluten free chili, or soup
Canned fruit
Kind Bars, Luna Bars and or Bumble Bar   
Packed tuna- not sure what the shelf life is on this but it is an idea         
Mountainland MRE's Most of their products contain wheat but this one does not and would work in an emergency.
Other medications you regularly take.
A pair of glasses or contact lens. These are for emergency so if they are a slightly older prescription, hopefully it will just be for a little while.
Mascara- doesn't hurt to have some comforts.
Pictures of family in a Ziploc baggie
Important documents in a place where they can quickly be picked up and taken with