Summer is in full swing and often that means lots of opportunities for potluck get togethers! While these are great events and everyone just needs to bring something to share, it does come with its hazards for those of us with dietary restrictions.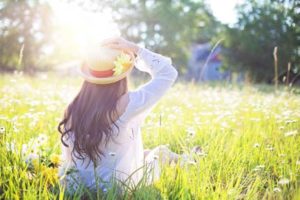 Danger at a Potluck
Your first thought might be about a salad containing mayonnaise or tuna that is sitting out in the sun. While that is hazardous, that is not what I am talking about.
A potluck can be a cesspool of cross-contamination! Not only do you not know what is in each dish lovingly prepared by friends, neighbors or family, but sitting next the rolls or buns can quickly cross-contaminate any dish.
Cross contamination concerns
Ingredients: My husband often asks people about the ingredients in dishes he is interested in and then from their answers he makes his best choice as to whether he should or not take some. Usually, they all know us and aren't surprised by the questions. Sometimes they will go to him and let him know what the ingredients are.
Serving utensils: People don't think about keeping the serving utensils in one place. If one is missing or they don't feel like putting down the one in their hand, cross contamination happens from using (for example) the potato salad spoon for the macaroni salad and then putting the spoon back in the

potato salad

.
Crumbs: Any dish next to where people are fixing buns or rolls often gets contaminated. People without dietary restrictions rarely think about where the crumbs fall and fly. They don't see a problem with holding their gluteney bread over a shared meat dish. (say pulled pork or hot dogs) Or any other dish for that matter. Crumbs happen as far as they are concerned.
Hands: So, after they have made their bun or gotten their roll, gluten is now on their hands and they cross-contaminate the bag of chips or other finger foods. Especially, kids (and some adults) who touch everything before choosing what they want. (You know the type.) My daughter had a gluten reaction from graham cracker hands touching marshmallows when making

S'mores

with roommates.
I'm feeling a bit of anxiety just thinking about all of this.
What to do?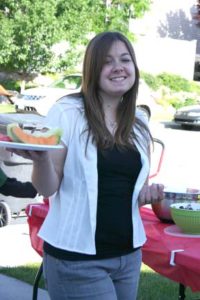 Our whole family is gluten free and wanting to give our kids as much of a "normal" life as possible, we felt our best decision was to figure out how to do that safely.
Eat before the event: or eat enough that you aren't starving in case there isn't much you can eat. Enjoy mingling without food hanging out of your mouth.
Take your own food: If you are really worried, but want to attend, take your own food. Give the person in charge a heads up so they aren't surprised when you aren't sharing.
Make multiple dishes to share: I usually make several dishes, even though you are usually asked to take one. This way I know there is something for my family to eat that is safe. I almost always make sure we take a dessert because everyone wants a treat at these kinds of things. That doesn't change just because you have a dietary restriction.
Dish up first: Ask or try to be one of the first ones to dish up and take what you want, because it might not be safe to come back for seconds. It can be uncomfortable lingering at the table to be first in line when it is time to serve up, but it is for your health and safety.
Set some aside: If there are a lot of people and it is going to be hard to be one of the first to go through the line. I will hold our dishes back, serve up what our family wants (usually at our table or at home before we arrive), and then put my contributions on the potluck table.
They just don't know
Most people are really ignorant when it comes to understanding dietary restrictions and allergies; especially if they have never experienced it for themselves. Some don't believe it is real and those are the really tough ones to deal with, but stick to your guns!
Before you went gluten free did you think it was a big deal to take a serving utensil from one dish to use in another? I remember being told by my mom or grandma to just use one from a dish close by. Most of us grew up with this being okay. We didn't see a problem with it other than, it's gross to have jell-o in the potato salad because there aren't enough serving spoons!
It's just a crumb
Look at the area where people have the buns. It is really crumby. (pun intended) This is another thing I bet you didn't think twice about before going gluten free and neither do they. They don't understand or know the damage one crumb can cause. They need to be gently educated.
It's your health!
So what if Uncle Joe or Aunt Barbara is put out that you aren't eating the special dish they made! They don't have to go home to the aftermath of gastro-intestinal issues, headaches, irritability, etc. that goes on for several days. Not to mention putting your long term health at risk. The only thing you can do is continue to try and educate them, in a calm manner, about why you are gluten free. It is not a fad and for celiac, in particular, it is the prescription for celiac disease.
Being gluten free helps many auto-immune diseases to do better and gluten intolerance is a real thing!
I recommend printing out information about gluten free issues, related illnesses, symptoms, etc. from https://www.gluten.org/ . Under their resources tab is a ton of great information to help educate family, friends, neighbors, doctors, etc.