One of the fears about homeschooling is kids missing out on activities. I believe my kids have had more opportunities to try things, focus on their talents and shine because of homeschool.
This Years Homeschool Play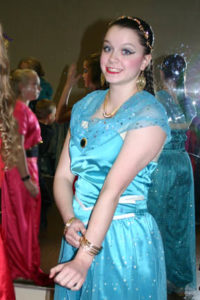 My girls have had several opportunities over the years that we have been homeschooling to participate in plays. They have had opportunities for bigger parts than they would have had in a public school setting. They also work with a wide age range of kids, which helps them learn to get along with lots of age groups. This year my daughter is playing the part of Jasmine in our homeschool production of Aladdin Jr.
Our homeschool group does plays through a dance studio that loves to put on musicals. This has been a nice partnership with them and the homeschool group. However, their main focus is on the dancing, which is always fabulous, but some of the other areas could use a little more polishing. Though, when all is said and done, it always ends up being a very nice production and a great experience!
Jasmine's Hair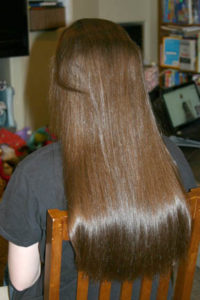 Our challenge is to make her hair black! She didn't want to dye it because she loves her hair color. It really is a beautiful chestnut color! After doing pictures, I realized we needed to do some foundation on her skin. She is so pale! I don't think there has ever been so pale of a Jasmine, before!
Anyway, we set out to give her a new hair color. We tried a black mousse. I wish I would have thought about wearing gloves! It took a lot of mousse to cover her hair. On a side note, yeah! She has always had really thin hair and we realized why when she was diagnosed with Hashimoto's, so this is a good problem to have with her hair!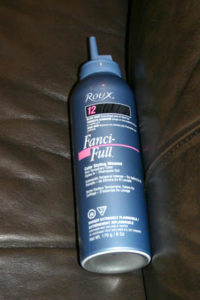 My nails still have a little bit of color from the mousse under them and that was 5 days ago. I should have taken a picture! My hands looked like I had been doing some serious mechanical work. The color stayed on my hands and nails far longer than in her hair. She was too tired to wash her hair before bed and so the color got on her pillow case. I also found black on the shirt I was wearing. (It was a light blue and white color.) However, all of the color washed out really well from all material and you can't tell the black ever got on it.
All in all, I prefer to use the mousse to change hair color over a colored hairspray, if dying it isn't desired.
What we learned
Picture day was 3 days before the dress rehearsal, which took place at a local library that has a ballroom. The girl at the hair supply store said her hair would be tinted black through a few washings. Nope! Not at all!
I learned a lot in doing her hair for pictures and so we tried something a little different the second time. For pictures I tried to make all her hair black and then styled it. This time, for the dress rehearsal,  I did her hair and then put the mousse on and it worked much better. She is so relieved that she won't need to dye her hair for the performance.
For her hairstyle, I found this really cool braid on Pinterest and we decided to do that for her hair. It turned out really awesome!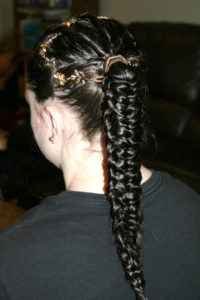 The tutorial was really easy to follow and it is much simpler to do than it looks! Check it out at Princess Hairstyles!
Dress Rehearsal
The performance is almost a month away. They do such an early dress rehearsal so the kids can get used to performing and  know what things need the most polishing and work over the next month. Hmmm. Maybe we can get Jasmine and Aladdin to look like they like one another?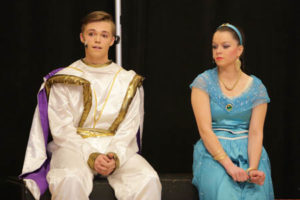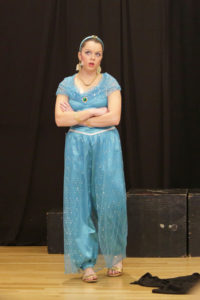 She has gotten the Jasmine attitude about not wanting her father to choose her husband, down! Seriously, she is not the eye rolling, ornery teen. She has always been a really happy, easy going kind of girl.
One more sneak peek picture. This is when they first meet and are comparing their lives.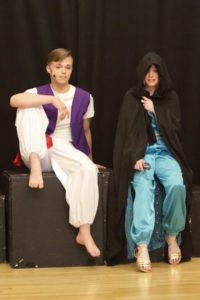 I am so excited for the performance! They did soooo good! I love to see my kids perform and enjoy expressing themselves and their talents!