The older I get, the more I learn, it is important what we put in our bodies as well as on our bodies. So, this years picks for gluten free, Hormone Disrupter free sunscreens is here!
Why Gluten Free Sunscreen?
As you sweat the sunscreen can run and get into your eyes, nose and mouth, thus entering into your system! Which can definitely cause a reaction. Years ago, my daughter came home from camp with a rash because a well meaning leader sprayed her with a sunscreen that contained gluten.
Many people will tell you, you can't have a reaction from gluten being on your skin, my skin says differently! I also know a lot of gluten free people, from running a support group, that also react topically to gluten. This is why gluten free sunscreen is important to me.
It isn't enough for your sunscreen to be gluten free, it also needs to be hormone disruptor free. Keep reading to find out why.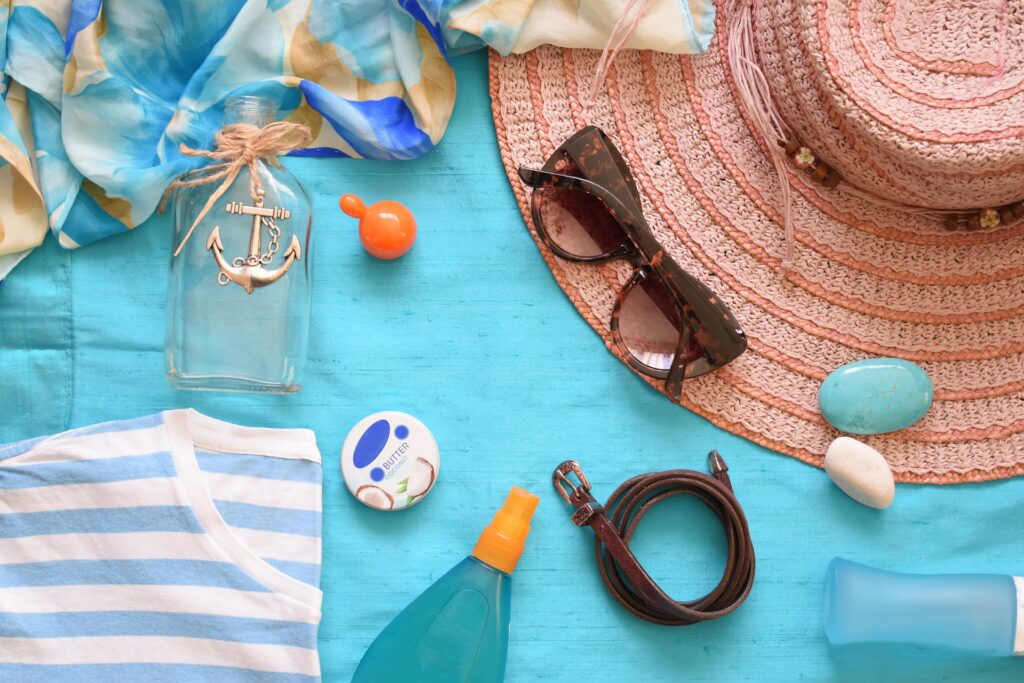 Why Hormone Disruptor Free?
If you have celiac disease, your are more prone to developing other conditions like diabetes and thyroid disease. Hormone disrupting chemicals increase that risk. A hormone disrupting chemical is one that either mimics or blocks your hormones. Some of these chemicals /toxins can build up in your tissues and become toxic.
2 of the most harmful chemicals are also very harmful for the coral reefs and are responsible for bleaching them. They are Oxybenzone and Octinoxate (Octylmethoxycinnamate). For more information about these 2 chemicals and others, check out this post that discusses hormone disrupting chemicals, what they are used for and the problems they cause.
Reef Safe does NOT mean that it is hormone free or gluten free.
The majority of spray on sunscreens are not hormone free. Click here to find certified gluten free sunscreens. The certified products on the list are there for being gluten free, some still contain harmful chemicals that should be avoided. Many brands have hormone free, chemical free, and gluten free products, but not all of their products may be safe. Check the labels to be sure.
Safe Sunscreen Options 2022
These sunscreens are free of hormone disrupting chemicals and are gluten free. All of them are reef safe, as well. I am unaware of any other harmful ingredients in these products, at this time. Please double check ingredients, because like all products, ingredients can change for a multiple of reasons and may be inconsistent from one year to another.
Also, ingredients may be different throughout their line and may not be consistent across the product line.
We try a new sunscreen each year.
All Good
We tried this sunscreen a couple of years ago and it worked really well for our family.
They are also listed as being vegan and biodegradable.
Babo Botanicals Sunscreen
This one we are trying this year. So far we are liking it.
This product is free of: Gluten, Dairy, Soy, Peanuts, Almonds, Walnuts, SLS, Sulfates, Parabens, Phthalates, Silicone, Synthetic Fragrances, Dyes, Formaldehyde, MEA, DEA, TEA, Petroleum
Be aware that it does contain Tree Nuts, Shea Butter and Coconut
Badger
Certified Gluten free! However, not all of their products are gluten free, only some of them are certified and free of gluten. Certified organic ingredients and no GMOs. Cruelty free, biodegradable and reef safe.
Earth Mama
Made for the whole family: adults, kids and babies! Gentle, natural and organic ingredients.
Erbaviva
Award winning, organically crafted and coral reef safe with non-nano zinc oxide, aloe, sunflower, jojoba oils infused with organic essential oils of chamomile and lavender. Erbaviva baby sunscreen (spf 30) effectively provides full spectrum protection (uva & uvb) for the entire family without the unwanted chemicals.
Green Goddess
In a chat with Goddess Garden Organics, I was told all of their products are gluten free!
Kokua
Made in Hawaii and safe for the reefs. They use a natural resin extract instead of beeswax. There are 23 antioxidants in this sunscreen. They really want to look out for your skin and keep it from being damaged or aging prematurely.
Loving Naturals
Safe for baby and great for athletes. It does contain Mangifera Indica seed butter which is made from mango. I have a daughter anaphylactic to mango and so this is a concern for us.
Suntegrity
I love the fruity smell of this sunscreen. We tried this a few years ago and it is one of my favorites! They also offer a non-scented version. The company also says it is great for babies but remember sunscreen shouldn't be used on babies younger than 6 months without talking to your doctor.
Happy Summer!
I hope this list helps you to find safe sunscreen that you love! Watch out for other allergy reactions, but hopefully this list will cut down on those issues too. Have a happy and safe time playing in the sun!