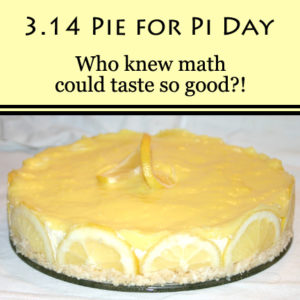 Who knew math could taste so good?!
Pi Day, also known as March 14 or 3-14 or 3.14 is a great day to work on some home economic skills!
Our friends first found this recipe for us because we liked doing dessert together and there wasn't a lot to alter in this recipe to make it gluten free and I tweaked it for ease. It was originally called "Creamy Lemon Supreme" and came for the Pampered Chef's Sweet Endings Cookbook.

I call it "Gluten Free Creamy Lemon Pie". It reminds me of the Lemon Meringue pies my Great Grandfather used to make. I never did care for the meringue part. Which this one doesn't have. I have made this pie many times for a girls camp fundraiser and several times, it has been bought , before it has even made it to the table! This also make for a nice springtime feeling dessert for Easter.
This is best made in a spring form pan. However, if you want to serve a lot of people double the recipe, do away with the lemon border and make in a 9×13 pan. Great for a family, Easter or neighborhood party!
Crust:
1 package of gluten free white sandwich cookies, finely chopped (I like either Glutino gf vanilla creme cookies or Kinniekinnick. I could only find a link for the Glutino ones. From Amazon, you have to buy a pack of 6. That would make them handy for other pie crusts.)
Glutino Gluten Free Cookies, Vanilla Crème, 10.5 Ounce Units (Pack of 6)
3 Tablespoons melted butter
Mix Together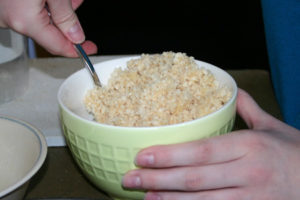 1 or 2 Lemons, sliced thinly and then cut in half (for garnish, leave one slice only cut half way through, but not all the way in half. in other words it is still one piece.)
Cut another lemon and squeeze 1/4 cup of juice from it and set aside for later.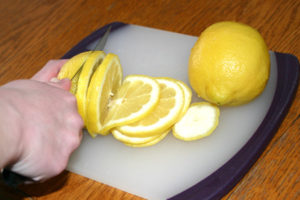 Spray the spring-form pan with a non-stick spray. Press crumb mixture into the pan.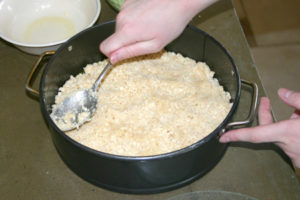 Arrange lemons around the edge of the pan and put in fridge while you work on the rest of the pie.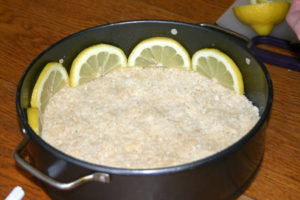 Filling:
1 package (2.9 ounces) lemon cook and serve pudding and pie filling (not instant)  Jell-O Cook and Serve Pudding and Pie Filling, Lemon, 2.9-Ounce Boxes (Pack of 6)
½ c sugar
1/4 c water, divided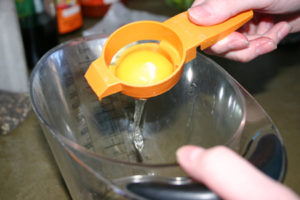 2 egg yolks
Put the sugar, 1/4 cup water and pudding mix (do not add any other ingredients, just the powdered mix) into a pan to cook.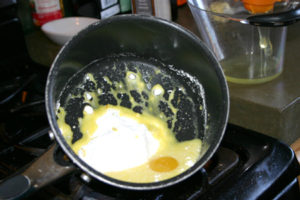 When pudding, egg yolks and water are nicely mixed, add 1 3/4 cups water and cook pudding over medium heat. Stir constantly until mixture comes to a full boil. It will thicken quickly and you don't want it to burn. Remove from heat. Put 1/2 cup of the pudding aside and let cool while you prepare the other ingredients.
In the remaining pudding, in the pan, stir in that 1/4 cup of lemon juice you set aside earlier and 1 Tablespoon of butter. Once butter is melted let it sit to cool for 15 minutes. Stir twice during that time.
Next, you need 16 ounces of cream cheese, softened. In a small mixing bowl, mix cream cheese with 1/2 cup powdered sugar. When that is mixed well, add the 1/2 of pudding you set aside and 1 1/2 tsp lemon zest, I love that I can buy dry lemon peel and not have to zest because I'm not very good or patient at zesting. Homemade My Way Lemon Peel Granules 2 Oz
. Next, fold in 2 cups of Cool Whip.
Layering: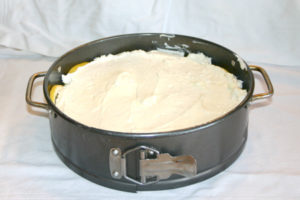 Take this light and creamy layer and put it over your crust being careful to not knock the lemons over.
Put in fridge, if you it hasn't been 15 minutes yet. When the 15 minutes is up, spoon that bright yellow pudding over the top.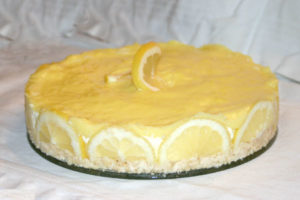 Garnish with your lemon slice that is partially cut through. Twist the cut ends in opposite directions and place on top. Refrigerate for 6 hours.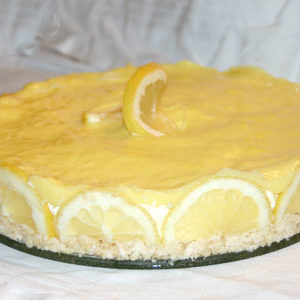 Gluten Free Creamy Lemon Pie
Tart and yummy with a similar taste of a Lemon Meringue pie but without the meringue.
Ingredients
Crust
1

Package white gluten free sandwich cookies

finely chopped (approx 11/2 cups)

3

T

Butter

1

or 2 Lemons
Filling:
1

Lemon

1 1/2

tsp

Lemon peel

dry lemon peel works great and is easy!

1

2.9 ounces Lemon Cook and Serve Pudding and Pie Filling (not instant)

1/2

C

Sugar

1/4

C

Water

2

Egg yolks

1

T

Butter

2

Packages 8 ounce each Cream Cheese

softened

1/2

C

Powdered sugar

1

Container 6 ounces frozen whipped toppings

thawed, divided (2 Cups for pie- rest for garnish)
Instructions
For Crust:
Lightly spray spring-form pan with non-stick cooking spray.

Finely chop cookies for crust. In a small bowl mix together the melted butter and cookie crumbs. Press cookies into the bottom of your prepared pan.

Cut 1 lemon into thin slices; cut each slice in half. *Leave one slice whole but cut 1/2 way through for garnish.

Arrange the lemon halves around the inside of the pan.
For Filling:
Squeeze lemon to measure 1/4 C juice and set aside.

In a sauce pan, combine pudding mix, 1/4 cup of water and eggs.

With a cooking spoon stir until blended.

Add 1 3/4 cups water to mixture in pan.

Cook over medium heat. Stir constantly, pudding will suddenly thicken as you do this.

When mixture comes to a full boil, remove from heat.

Remove 1/2 cup of the pudding and set aside to cool while your work on the rest of the filling.

Stir in 1 Tablespoon butter and the 1/4 cup of lemon juice. Stir until the butter is melted.

Let mixture sit for 15 minutes to cool and stir twice during the 15 minutes

In a small mixing bowl combine 16 ounces of Cream Cheese and 1/2 Cup powdered sugar; mix well.

Add the 1/2 Cup of lemon pudding you set aside and 1 1/2 tsp lemon peel

Fold in 2 cups Cool Whip, whipped topping

Spread over crust, being careful to not knock over the lemons.

If it hasn't been 15 minutes yet then put the pie in the refrigerator for a while.

After the 15 minutes are up, stir in the lemon pudding mixture that is in the pan.

Gently, spread evenly over your creamy layer.

* We will put it in the freezer for couple of hours if we want to speed up the time before we can eat it.

Run a paring knife around sides of dessert; release collar from pan. Garnish with remaining whipped topping and lemon zest. Cut into wedges.
Save
Save
Save
Save
Save
Save