Sometimes we just crave the Italian flavors! Pesto has such a wonderful and unique flavor with it's basil, olive oil, pine nuts and more.
We love Costco and shop there frequently. Costco's Kirkland brand, Basil Pesto is my favorite! Also, from Costco I use their Parmesan cheese and chicken. Pesto Chicken pairs well with Alfredo Sauce and noodles.
This recipe is so easy to put together! Only 3 ingredients plus salt and pepper to taste!
Ingredients for Pesto Chicken:
2 lbs of chicken (I like using chicken tenders or boneless skinless thighs.)
Salt and pepper to taste
1 Cup grated, Parmesan cheese
1/2 bottle of Kirkland brand Basil Pesto (approximately 1 1/2- 2 cups)
Directions:
Pre-heat oven to 350 degrees.
Spray baking dish with a gluten free non-stick spray. Place chicken pieces on the bottom of the dish in one layer. Sprinkle with salt and pepper to taste.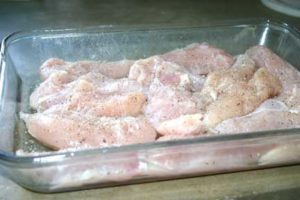 Sprinkle parmesan cheese on chicken. Spread Basil Pesto on top being careful to not disturb the cheese. Cover with tin foil and bake for 45 min.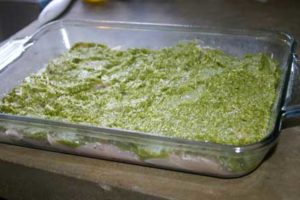 While it is baking you can make Alfredo to go with the chicken. Pesto Chicken is one of may favorites and it has a lighter flavor.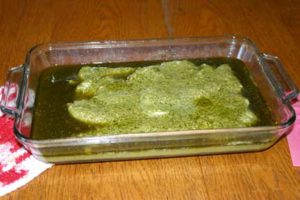 I put the liquid from the chicken in a dish for those to ladle a little of the pesto liquid onto their Alfredo, if they wanted.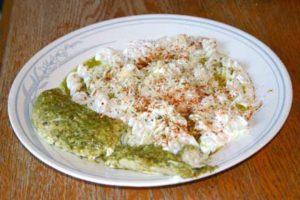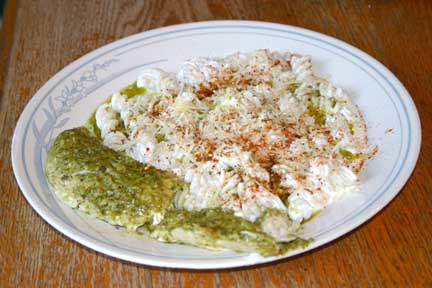 Easy Gluten Free Pesto Chicken served with Alfredo
Delicious flavor and goes well with Alfredo.
Ingredients
2

lbs

chicken

I like using chicken tenders or boneless, skinless thighs

salt and pepper to taste

1

Cup

grated

parmesan cheese

1/2

bottle of Kirkland brand Basil Pesto

Or approx. 1 1/2 - 2 cups favorite pesto
Instructions
Pre-heat oven to 350 degrees

Spray baking dish with gluten free non-stick spray

Place chicken in one layer in the baking dish

Sprinkle with salt and pepper to taste

Sprinkle parmesan cheese across chicken, cover well.

Spread Pesto Basil over the cheese, carefully as to not disturb the cheese too much.

Bake for 45 min